We've been working in Amazonas in Northern Peru since 2015, and the raw quality potential has always been through the roof. With careful attention to detail over the years from local producer communities as well as our partnership on the QC and milling side, Amazonas's reputation for year-over-year delivered quality has only grown.
The region's cold, humid microclimate partners with a communal extreme focus on integrated ecology (more on that below) to slow and enhance flavor development during fruiting and slow the drying process, which takes about 5-10 days.
Flavor profiles include dark fruits like black cherry, purple plum and concord grape, baking spices like cinnamon, allspice, and ginger, a complex malic acidity like apples and pears of all varieties, and a sweet, approachable base like milk chocolate.
Terrain, ecology, & community
The Peruvian jungle's microclimate is extremely variable. In a matter of hours you go from very hot, dry climates to cold, humid ones. As noted above, the Amazonas region represents the cold and humid side of this equation beautifully, with heights up to 2,300 masl and abundant vegetation and fauna, much of it still relatively unstudied.
There's a wealth of protected forests in Amazonas, and communities here understand their health as vital for both the coffee itself and on a deeper level, the future. One of few regions in Peru where producers have found a balance between their agricultural production and the stewardship of local flora and fauna.
One example of this may sound silly, but is actually one of the largest production challenges Amazonas producers face: a profusion of parrots, who love to eat coffee cherry to the point of potentially very significant crop loss. The parrots, while inconvenient and even dangerous to local livelihood, are an integral part of the local ecology, and while it would be easier to kill as many parrots as possible, the producers here recognize their importance. So, they find creative alternatives, like keeping several scarecrows on the property and launching fireworks or shots in the air at regular intervals to scare the parrots away and minimize cherry loss.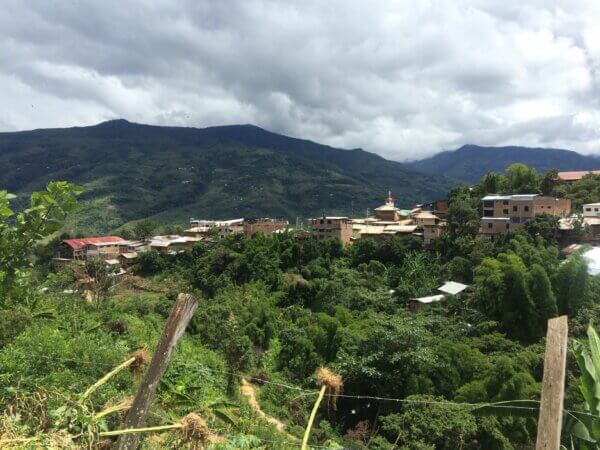 Getting to Amazonas, then & now
In 2023, the majority of Amazonas producers have decent road access, but a significant number still have to transport coffee by mule for several hours to reach the nearest collection area. In these areas, road construction is immensely complicated by annual torrential rains that often destroy current access roads.
Getting from Lima into the production areas is much more accessible than in many other remote, densely forested regions we work in: you can take a plane from Lima to Tarapoto (about a 1.5 hour flight) and then drive on a well-maintained road from Tarapoto in about 4 hours. If you love road trips, the drive from Lima takes almost 30 hours to wind your way into the high coffee-growing areas of Amazonas.
If it sounds remote now, it used to be an odyssey by comparison. This region was the main center of the Chachapoyas people. One of the greatest foes of the Inca empire, they kept this region completely isolated from the others. Pre-roads, this stronghold was practically impossible to enter due to dense forests that made it difficult to find the correct path in the almost 40,000 km that make up Amazonas. This remained primeval forest while other, more accessible areas modernized and lost a lot of their history. As the years passed the Chachapoyas natives in this area dwindled, and for a long time no one entered or inhabited the highest parts of this remote area.
This is a unique area in that most of the regions in which we work in Peru are inhabited by native populations who have been there for as long as their family history remembers. The coffeelands of Amazonas are different, populated by migrants from other parts of Northern Peru. The first migrants to arrive there were producers from Cajamarca seeking better farmlands with cooler climates. They settled in places like Chachapoyas, Yambrasbamba, Beirut, and others. Their journey began on foot for 3-4 days from the closest cities such as Rioja in the San Martin region to reach the highest areas of the forest. Before the roads, it took the same amount of time to transport the coffee by mule from the field to the closest points of sale.
Now, it's much easier for producers to make their way through the area, but those who live here are determined that the heritage and ecology of these forests won't be lost through coffee production.