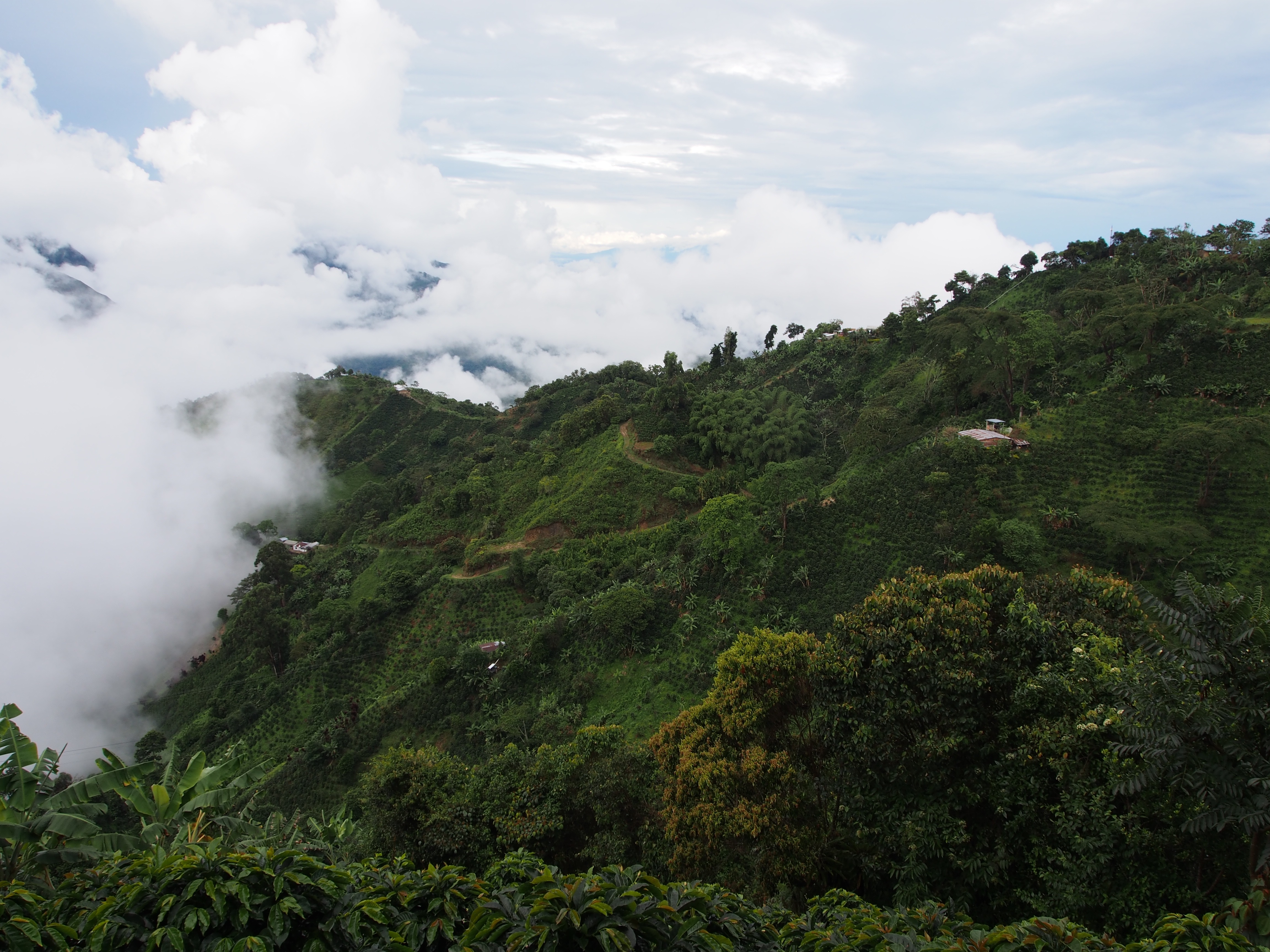 Colombia is the origin on which we've hung our hat since day one at Red Fox Coffee Merchants. There is currently no other country in Latin America with an equal wealth of top-tier quality coffee. The breadth of flavor profiles here is more diverse and all-encompassing than anywhere else in the world. Before you all go into cardiac arrest on me: yes, I decidedly believe that Ethiopian coffees are the most nuanced and sophisticated of all the coffee-producing world, and that top Kenyas are the most powerfully bright, complex, and articulate. But Colombia — Colombia has Huila and Huila coffees that will conjure at first spoonful the memory of the freshest Kenya in Nairobi last winter. Tiny pockets of Cauca have Bourbon and Typica so majestically floral that you instantly think of Gedeb or Agaro. And that's barely scratching the surface.
Colombia also has fresh coffee virtually all year long. Its fly crop is basically constant because what is Colombia's fly crop anyway? Climate change seems to have merged both harvests into one prolonged 9-10 month season of coffee succulence. Some farmer in some far off region is picking coffee every single day of the year down there. In all aspects, Colombia is a veritable treasure chest of coffee. We begin shipping coffee late July/early August and we don't stop until March. Other than a brief hiatus come mid-summer, we have fresh, tasty coffees on our menu all year long.
What won't come as a surprise is that our longest relationships in coffee are also in Colombia. We've been buying coffee from the Asorcafe producers association in Inza, Cauca for more than 11 years now. We started buying coffee from the Lasso family, their neighbors, and the several iterations of their producers association in the surrounding areas of La Union, Nariño beginning in 2007. We are building and re-building relationships across Huila from Palermo and Santa Maria in the north, to Palestina, Acevedo, Bordones de Isnos, San Agustin and beyond in the south. And we're in constant discovery mode, jumping from cupping table to cupping table in Southern Colombia. We put in the work — Red Fox will be in Colombia no fewer than six times this year — and being present begets rewards.
We'd like to shed some light on what's happening with each of our projects and on the producer groups we're currently partnered with. You'll find rough harvest and shipping timelines, price ranges, and flavor profiles for each region below.
INZA, CAUCA — Asorcafe
Inza is commonly referred to as La Tierra Adentro in Colombia, and that's exactly how it feels. Whether approaching from Popayan or La Plata, when you eventually pass over a certain ridge and drop down into the pristine, emerald green valleys of Inza it's a bit like entering another world. My personal history in the region goes back over a decade. I was one of the original buyers, when the Asorcafe producers association was in its infancy. We've had many triumphs and plenty of failures together, but we've stuck with it. Not only has the group invested in bettering their practices at the farm and processing levels, but they have also organized themselves as a producers association into something greater than I've ever seen before, organization-wise. As I've matured as a coffee buyer, I've learned that all of these things matter and are truly apparent in the quality of the cup. I often refer to the coffees from Tierra Adentro as the most 'complete' in all of Latin America. That is to say, they are not lacking in any way, shape, or form. Sweetness is supple and full. Mouthfeel is round, often creamy or viscous like cider or even honey. Acidity is fine and elegant like kiwi, or crisp like apples in early fall.
Peak Harvest Season: September – November
Shipping Timeline: August – March
Dry Mill Location: Armenia, Quindio (5,000 ft)
Flavor Profile: red apple, asian pear, kiwi, red grape, nectarine, panela, raw honey, creme fraiche
LA UNION, NARIÑO — Fudam
Interest in buying Nariño coffees has increased significantly over the past few years, due almost entirely to CRS's Borderlands project, which focuses on the impact of coffee variety on farm sustainability and cup quality. It's nice to see some of the focus in the south shift from Huila, Cauca, and Tolima, to the region that's home to Colombia's smallest coffee landholders. We continue to work with coffee producers in the highlands above La Union, now reborn as the FUDAM producers association, in search of the area's finest coffees. That search has led us through many peaks and valleys, deep into the northernmost pockets of Nariño. Ten years since we first started buying coffee here, we continue to make new discoveries each and every season. In addition to coffees from Cusillo and high elevation Cartago, this year we'll be introducing coffees from Genoa and beyond. These are quite possibly the most complex coffees we've sourced from the greater area. Think citrus as complex and marvelous as a perfect mandarin or prized yuzu. There is a purity to these coffees that make them different than the rest.
Peak Harvest Season: July – September
Shipping Timeline: August – December
Dry Mill Location: Armenia, Quindio (5,000 ft)
Flavor Profile: yuzu, mandarin, meyer lemon, white grape, candied grape, ginger, wildflower honey
TABLON DE GOMEZ, NARIÑO — Pompeya
Pompeya is where I see us continuing our thirst for discovery, need for adventure, and fine-tuning our strategy as a business. Pompeya borders the department of Putumayo. It's so far off the grid that, until just a few years ago, the town was home to much of the top leadership of the FARC. We began purchasing a small volume of producer lots from Pompeya two years ago, starting with maybe 20 bags. Last year we brought in a couple dozen bags more. Building the relationship, organizing a producers group, and creating an avenue for delivery took time, but the cup quality makes the investment worth it. These are coffees I whispered about until now. I didn't want to spill the beans before we had something reliable to share with you all, but Pompeya lots are finally coming through the pipe this summer/fall. I rarely see 2,100/2,200+ masl elevation in Colombia, but that's all there is in Pompeya. Yellow Bourbon, Typica, and Caturra are all you'll find. What else is there to say? The profile is potent here — the ripest bing cherries, pomegranate, raspberry, and white peach are foundational pieces of the puzzle. Total volume from the area could be as little as 150 bags or as many as 300. We'll be conservative selling forward this year for these coffees.
Peak Harvest Season: August – October
Shipping Timeline: September – December
Dry Mill Location: Armenia, Quindio (5,000 ft)
Flavor Profile: bing cherry, pomegranate, raspberry, white peach
BUESACO, NARIÑO — Santa Fe
Santa Fe is positioned directly across the river valley and provincial border from Pompeya. It's geographical proximity to our friends across the way is what drew us to the village. How much different can these coffees be from those in Tablon? Elevation is virtually identical and, more importantly, microclimate is the same. This will be our first year working with this group of 28 producers and we've yet to taste the coffee. It's one of those rare instances where we are completely certain of the outcome in the cup prior to the season. This will be another small-volume offering of producer and village lots. We expect a whole lot of the ripe, Kenya-like fruit quality we find in Tablon.
Peak Harvest Season: August – October
Shipping Timeline: September – December
Dry Mill Location: Armenia, Quindio (5,000 ft)
Flavor Profile: TBD
SAN JOSE DE ISNOS, HUILA — Bordones
I often think of Colombia as the most competitive origin that we work in. We're extremely confident in our ability to procure, transport, and deliver excellent coffee from Colombia. We also know we're not the only ones. We often compete with these folks for the same producers and the same coffees. Huila is the region where this is most true for us. So this year we've decided to focus our efforts in specific provinces within the department. San Jose de Isnos, in southernmost Huila, is just northeast of San Agustin and West of Pitalito, the areas that brought coffee fame to Huila originally. Needless to say, coffees from Isnos helped play a role in that. So that's where we begin anew, again, in Southern Huila and with a group of almost 60 producers in Bordones. Like Inza, these coffees are juicy and complete with acidity another level higher in intensity.
Peak Harvest Season: July – September // November – January
Shipping Timeline: August – March
Dry Mill Location: Armenia, Quindio (5,000 ft)
Flavor Profile: TBD
NORTHERN HUILA, HUILA — Santa Maria y Palermo
In my old coffee life, Inza, Cauca and Planadas, Tolima were where my sourcing efforts were concentrated. I had this idea in my head that the areas surrounding the Nevado del Huila were especially important to coffee. There was something about those mountainous slopes and their volcanic soil; those specific microclimates with their warm days and chilly nights. Our newest project of all in Colombia is out on the Huila side of the border with Planadas, Tolima, at the southern edge of the Nevado del Huila. A visit this past March reminded me immediately of my trips years ago to the perilously steep slopes in Gaitania, the verdant mountainsides very Inza-like in their might, the coffees similar in their sweetness, and, if anything, more intensely floral in aromatics and acidity. We are just getting started here, but the vibe is right. Our first container will be afloat come early August.
Peak Harvest Season: July – September
Shipping Timeline: August – October
Dry Mill Location: Neiva, Huila (1,450 ft)
Flavor Profile: honeysuckle, black currant, black cherry, honeydew melon, vanilla, buttercream
The regions and relationships above are the offerings we want to highlight for Colombia's first semester harvest. We have visited dozens of other subregions so far in 2017, and are seeking out others as I type. Look for more offerings from several hotspots in Tolima, Southern Huila, Cauca, and Northern Nariño. The discovery continues…
Cheers,
Aleco