Published 08/01/2019
In our previous series, Paying for Coffee: It's Complicated, we talked about the various factors that underpin how we as a coffee sourcing company buy coffee, as well as how to discuss it. While that series looked at the larger picture and laid crucial groundwork for the discussion, this is something we feel we—and the industry at large—need to go deeper on. This series will take a closer look at the details that underpin how we buy coffee in our major supply chains, each of which is unique. 
Inzá, Our Oldest Relationship
In this piece, we take a deep look at Inzá, our longest-standing relationship at 13 years. In Inzá, we've seen other buyers come and go, dealt with hyper-competition, and experienced both success and failure; through it all, we've remained just as invested in the hardworking and honest members and leaders at producer association Asorcafe and the exceptional quality and consistency they produce. This is a group we're completely committed to, and here, we dive into what that commitment looks like, talking about not just what we pay for coffee, but how we buy it.
What We Pay
First, the simplest part of the equation: what we pay. We visit our trade partners in Inzá each May to establish pricing for the following 12 months of harvest. Our motivation is not just to make coffee production worthwhile in Inzá, but to make sure that the extra effort it takes to produce the above-and-beyond quality we look for here drives the incentives producers receive. Asorcafe sells their specialty coffee production to us exclusively, so we also need to ensure that our pricing is superior to what they could get elsewhere in order to maintain our exclusive access to their specialty weight.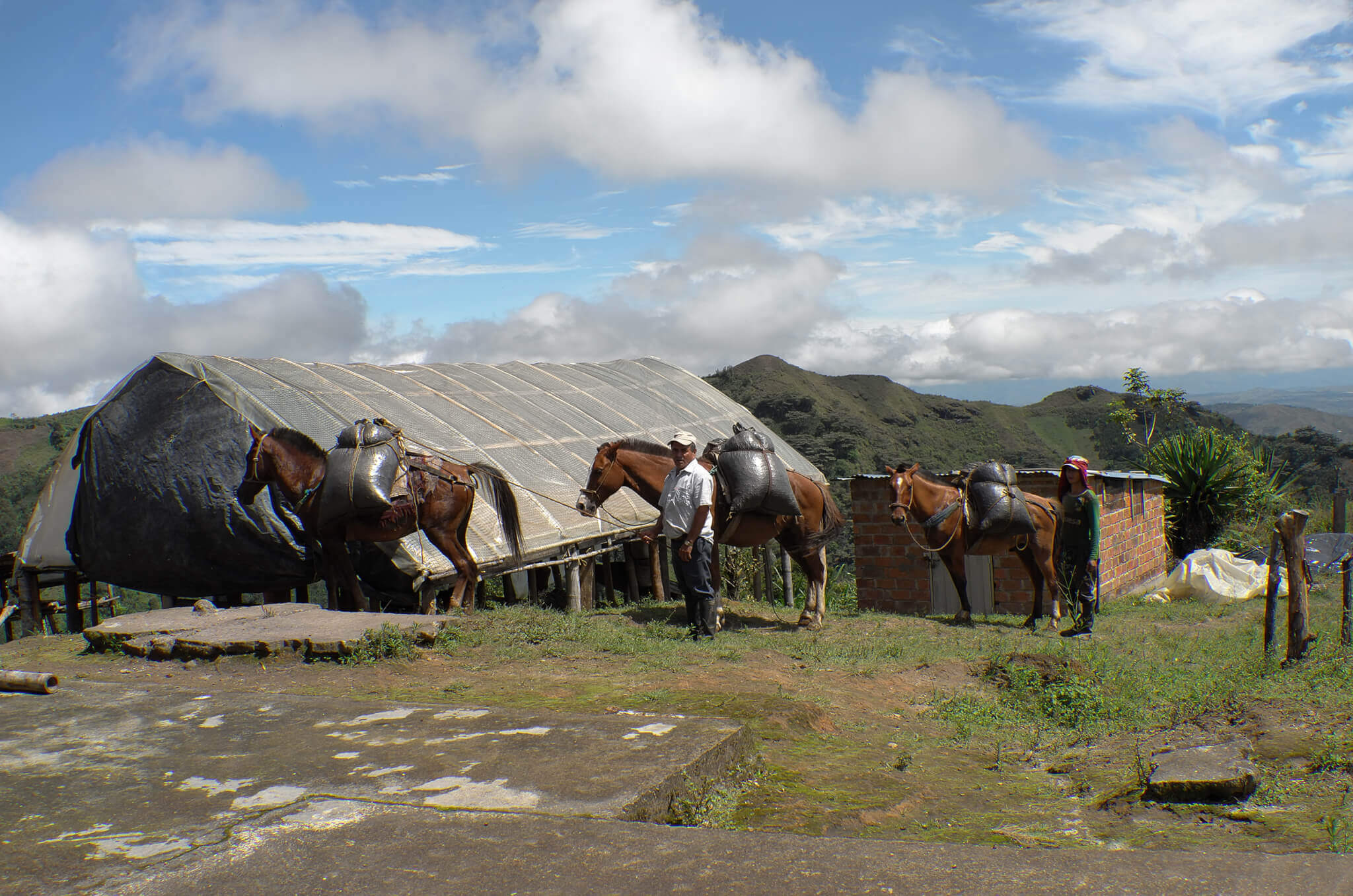 Farmgate Pricing
As part of this strategy, we set our base prices high and we don't tie them to the C market in any way. First, as a comparative baseline, the local price offered by the Colombian Coffee Growers Federation (FNC) on our most recent visit was 837,000 pesos per carga (the standard price/volume measurement in Colombia—around 125 kg parchment) with no pricing incentive for better quality—a price that goes up and down with the C market. In Inzá, Nespresso is a huge commodity buyer, offering prices slightly higher than the Federation: at the same time the FNC was offering 837,000 pesos per carga, the Nespresso price was 850,000, also tied to the C market.
Looking at our prices, we pay a baseline rate for coffees scoring 84-85 of 1,150,000 Colombian pesos per carga, equivalent to 2.47 FOB (or free on board, the price of the coffee at export). For coffees that score an 86, we pay 1,250,000 pesos per carga, equalling 2.64 FOB. For coffees at an 87, we pay 1,400,000 pesos per carga, or 2.90 FOB, and for 88-89 point coffees, we pay 1,500,000 pesos per carga, or 3.07. For coffees at or above a 90, we pay 1,700,000 pesos per carga, or 3.42 FOB. Once again, our prices don't fluctuate based on the C market.
[table id=5 /]
FOB Pricing
As we'll go further into below when talking about how we buy, costs that take the coffee from farmgate to FOB include transportation from the interior to the mill (which Red Fox pays for directly), meticulous preparation for export, GrainPro for protection through transport and storage, transport to port, and loading onto the cargo ship. We expect a process and prep that's close to perfect and we pay well for it.
As we explored in Paying for Coffee: It's Complicated, just as exporting coffee adds costs over and above the amount the producer got paid, the importing and warehousing process also adds costs of its own. Once we factor in the cost of bringing coffee into port, getting it into a warehouse, holding it in the warehouse until it's sold, and covering the additional operating costs of our business, we get to our ex-warehouse prices, the point at which roasters purchase our coffees.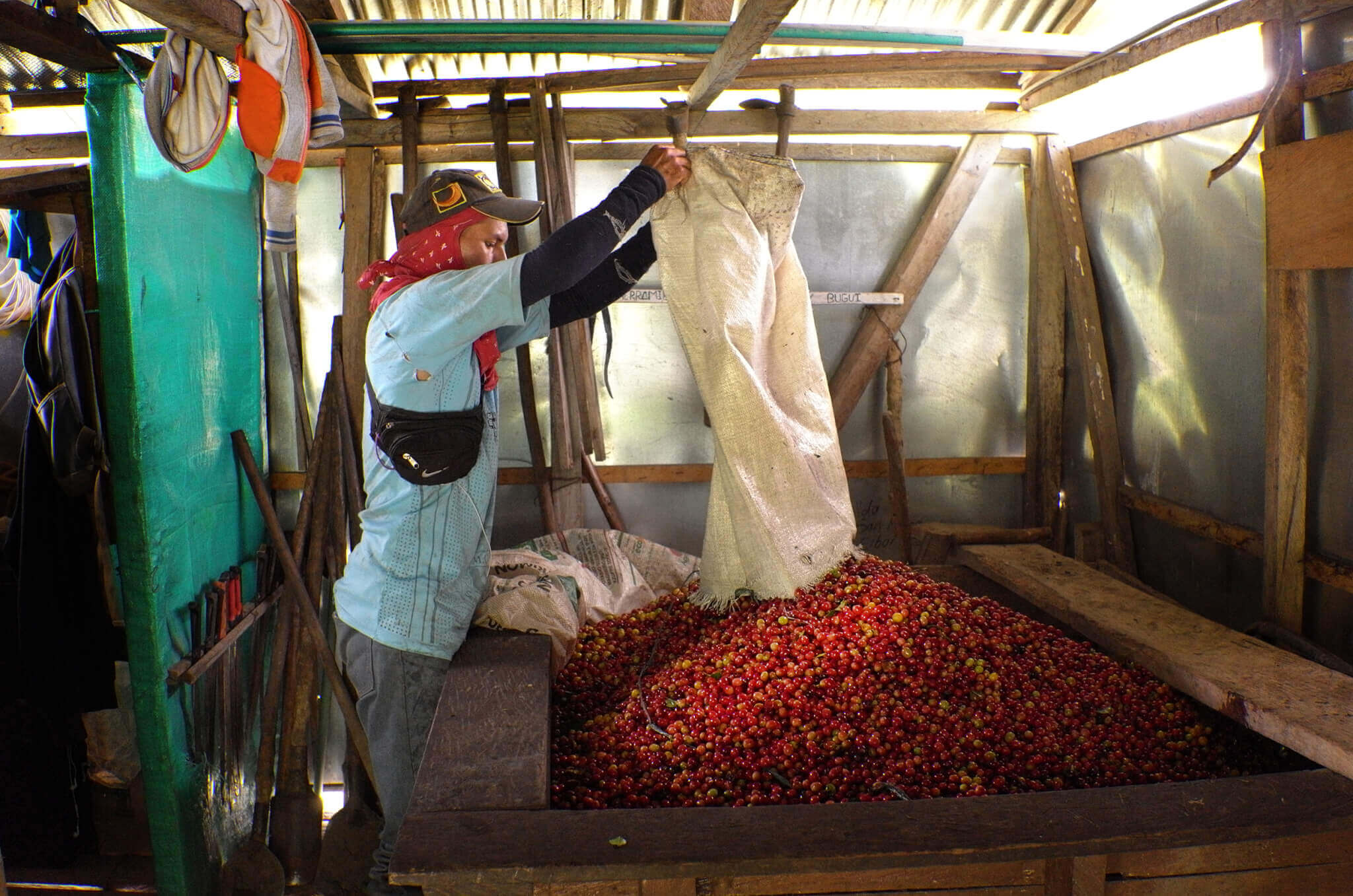 Managing Risk
Another factor we have to account for in our ex-warehouse pricing is the risk we take when carrying a large spot position from these producer groups. Where many other importers and sourcing companies only buy what they can sell in advance, reducing their warehousing costs, we commit to the quality volume Asorcafe produces, selling it over a longer period of time.
What this often means is that we're managing some amount of inventory in the warehouse for a longer period in order to do this—a cost we have to account for. We're also accountable for any quality risks involved in this process, paying what we've committed to paying even if the coffee doesn't arrive at the contracted quality level.
Just like the price roasters charge per retail pound is higher than the green price per pound of the same coffee, our ex-warehouse prices are necessarily higher than our FOB costs. Just like the costs roasters face in taking coffee from a green to a roasted product, we face costs during the sourcing, exporting, importing, warehousing, and selling process that take the coffee from its FOB to ex-warehouse prices, while carrying the quality risks incurred at all these stages.
How We Buy
One thing we've seen over time—in every region we source, but especially Colombia—is buyers who attempt to pick off those they perceive as the "best" producers rather than working with producing groups like Asorcafe who provide resources, structure, and community investment. Critical to our success in Inzá over time is our investment in the community structures that support producers, rather than just an interest in skimming the highest-scoring lots and producers off the top.
The essence of what we do in Inzá is similar to everywhere else: we try to incentivize quality. We do this with the prices we pay, discussed above, but those aren't the only incentives for producers to grow great coffee. Asorcafe works with an agronomist to help with nutrition, shade coverage, and pruning, as well as fermentation times and processing details. We pay 50% of the agronomist's fees, making it easier for Asorcafe to afford the quality improvements that come along with better plant health and processing.
We also pay for transportation of the coffee to the dry mill, which is a significant cost, and one that producers usually have to cover themselves. From there, we buy the coffee in parchment. We take on the cost of removing the parchment and sorting via gravity tables or machines—the latter which not only has a process cost but also removes a minimum of 20% of the coffee's weight but results in a significantly better cup.
We then pay for the coffee to get packed in GrainPro bags to preserve the careful work that went into processing and drying. We transport the coffee to the port and get it onto the ship that will bring it to its destination, selecting the fastest shipping option—which often is not the cheapest—in order to minimize the impact the shipping process can have on quality.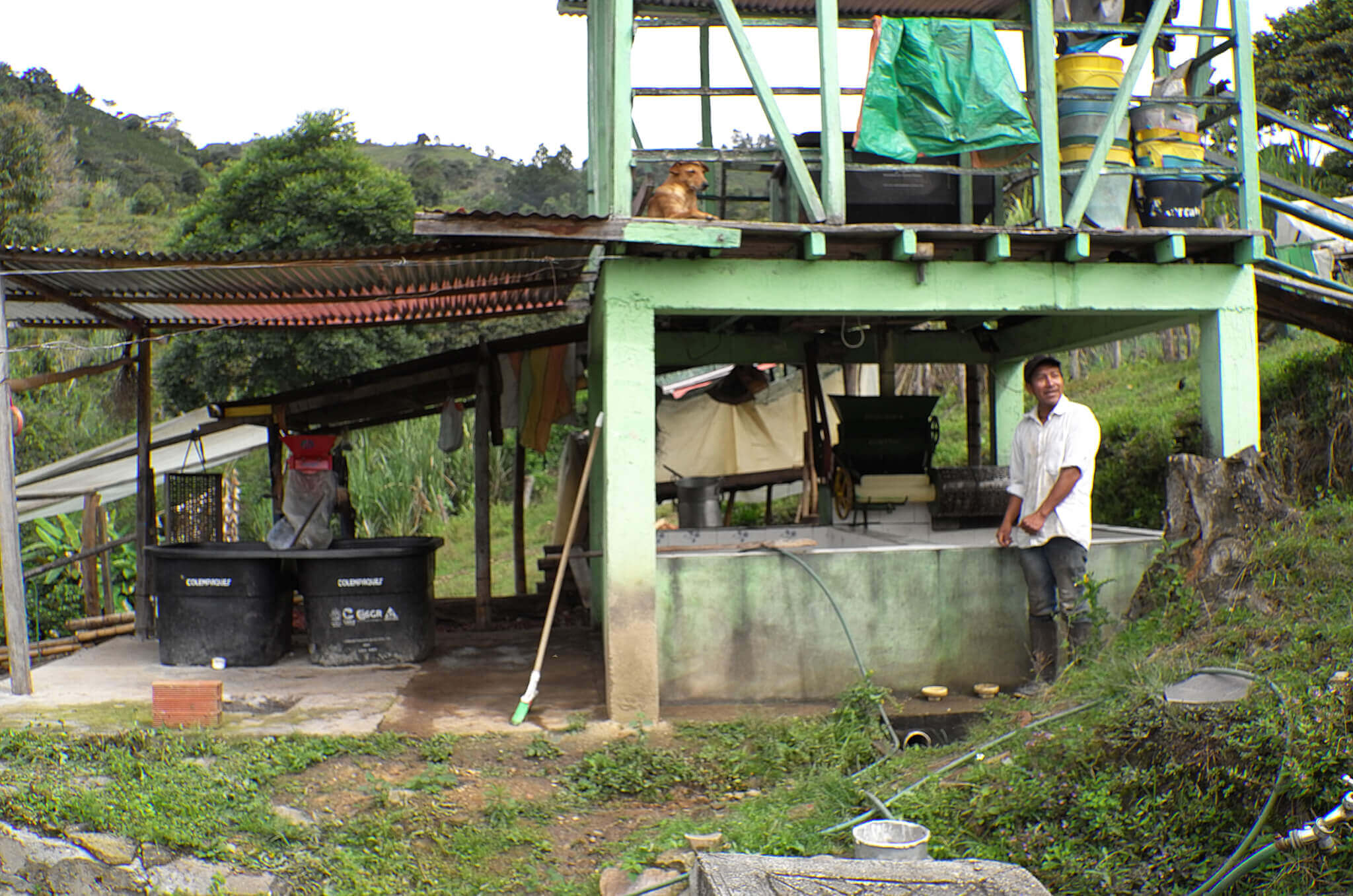 Cupping and Communication
As we talked about in Scaling Quality: Signal Detection Cupping, farmers in Inzá average just 1 exportable bag of coffee a year, but even though it takes a lot of time and energy, we feel it's well worth it to taste what each farmer has to offer individually and blend in ways that truly represent their work. We apply the signal detection process to all offer samples, making sure we're cupping samples anonymously to remove bias and quantifying our results in a way that's easy to communicate back to Asorcafe.
Once we have our scores, we compose lots at various tiers custom-made from specific producers and communities to best showcase their work. We then send the results to Asorcafe leader Geovanny Liscano, who communicates them to Asorcafe's membership.
Coffees that score below our threshold are typically sold by producers to Nespresso, which is why we work hard to both incentivize and assist quality production. For us to buy coffee at lower quality tiers at high-quality prices, we would need customers to both embrace and commit to that.
Paying for Coffee in Inzá
Inzá is a perfect example of how we buy coffee. As our oldest relationship, it's an ideal vantage point to examine not just at what we pay for individual lots, but the other types of support and incentives we offer, as well as the specific logistics that move coffee from point A to point B in this unique supply chain. As we move through the year, we'll continue to shine a light on our individual supply chains, going deeper in order to show what our sourcing really looks like, from the ground up. It's critical to the future of coffee that we as an industry have conversations like this: conversations where we discuss not just what we as companies pay for coffee, but how we buy it.