Kanzu is back. We're cupping offers for approval and aim to send first outturns for milling in the next few weeks with an eye towards early shipments & arrivals.
Flavor profiles to look forward to include but are absolutely not limited to:
Notes: red plum, honeycomb, tangerine, blood orange, toasted sugar, gingersnap, and blackcurrant
Kanzu is also home to a spicy ginger-like note that we particularly look for and love in these lots. 
We're shipping to the East and West Coasts starting in August, with estimated first arrivals to the East Coast in mid-October and West Coast in the weeks following.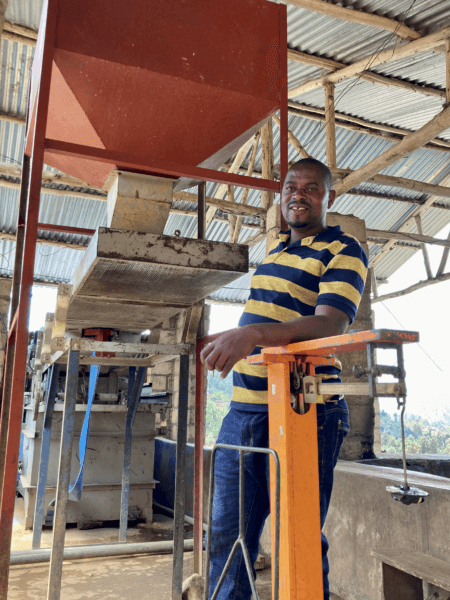 From Julia Fariss, Red Fox co-founder:
We first encountered Kanzu in 2007 when Red Fox CEO and co-founder Aleco Chigounis tasted it at the Golden Cup competition, a predecessor to COE. The coffee was incredible, but the prior owners were having financial struggles that led to inconsistent supply season to season. Aleco reached out to Dormans, who had recently started working in the area, and they were able to purchase the washing station in 2009. We've bought Kanzu every year since, and a few years ago we began to make it our sole source of Rwanda volume.
Since 2009, they have invested in both the coffee itself and the community year after year. One thing I always notice when I visit Kanzu is the amazing continuity to the people working there, from the management to the farmers who deliver their cherry. Washing station manager Cyprien has been with Kanzu since 2012. The same farmers come back every year. Not only is the quality always there, the recipe for that quality is equally consistent.
On the investment side, Kanzu leadership goes above and beyond the typical infrastructure and technical assistance washing station owners often provide. When I visited last year during record prices, they had not only exceeded those prices but also given community members a special breed of cow as a gift to reward their hard work and loyalty. Three or four years ago when we visited, they had just built covered drying beds to test against the full sun beds. So while there's a beautiful consistency to the recipe that makes Kanzu great, there's also a sense of experimentation and creativity that is part of it.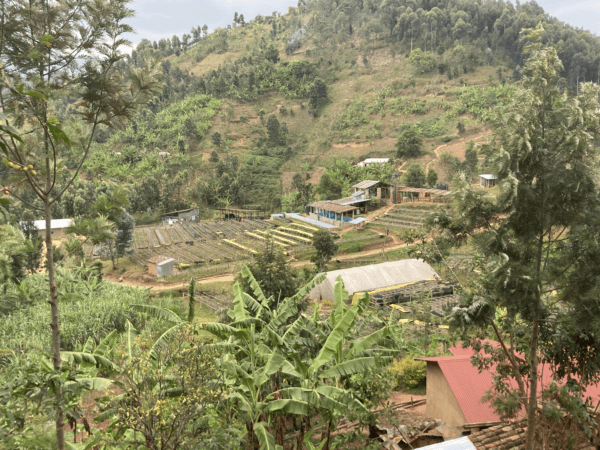 Another part of that recipe is the place itself. One thing that feels special about Kanzu is that unlike other washing stations which are fairly accessible from the roads, Kanzu doesn't have road access. So, you drive all the way up a winding road to a town called Gatare, then hike the rest of the way.
The station is nestled against a huge national forest called Nyungwe, so it's protected for biodiversity and from deforestation. The forest collects cloud cover, generating a special misty microclimate that slows cherry maturation and protects the coffee from climate extremes. It's right above Lake Kivu and the view looks down on the watershed, all the way down to the lake itself. Kanzu is on the downslope right below this forest, at an extremely high elevation, and we've always seen how the climate plays a huge role in the flavor development of these coffees. The cherries here ripen a lot later than most of the country and are frequently one of the last harvests of the season.
The unique microclimate, meticulous harvest and processing, and constancy of community here keep us coming back every year.