Central Guji is one of the coffee world's veritable treasure chests. As the Ethiopian coffee trade has made itself over several times in the past 12 years, so has Red Fox. The advent of ECX prior to the 2009/10 harvest brought me personally to Uraga having to say goodbye to the strong relationships built over several years with privately held washing stations in Gedeb, Yirgacheffe and Bensa in Sidamo. Working through Guji's Cooperative Union I found myself making trip after trip to Layo Tiraga in Central Uraga's forests and eventually Yabitu Koba in the Ugo Begne forests building a pipeline for top lots to the US. The beautiful coffees in Yirgacheffe and Sidamo became an afterthought as I pushed to put this region on specialty coffee's radar. As the Union found themselves in brutal political and financial struggles in the early years of Red Fox we branched out to working with small, independent washing station owners in the specific forests in and around Harso Larcho Torka, Bire, Gogogu, Ugo Begne, and Bere.
Enter Kedir Jebril Imamu. On the surface Kedir appears to be just another independent washing station owner from Dilla in the Gedeo Zone. His two brothers, Feku and Abdi, have coffees widely praised by the industry that Red Fox used to source and deliver in the immediate post-Union years. There is more notoriety on both of his brother's names in the North American coffee market because they've been so widely traded and marketed by us and several importers post-Red Fox. But it's the youngest brother that might just emerge as the new wave industry leader in Haro Welabu, the newly zoned Guji Woreda immediately east of Hambela Wamena and west of Uraga.  
Kedir grew up working odd jobs around Dilla, mainly construction. He eventually saved enough money to open his own coffee transportation company moving coffee from the bejewelled coffee forests surrounding Dilla—specifically Central and Northern Guji—down the mountain to major trade centers. 11 years ago, Kedir built his very own washing station, Gogogu Bekaka, in the Gogogu kebele of (formerly) Uraga, Guji. Since then Kedir has gradually increased his bandwidth with the neighboring coffee farmers growing his volume at Bekaka to roughly 2 container loads annual. 2 years ago, Kedir built his second washing station, also in the forests of Gogogu: Gogogu Wate. Production is lower annually here as Kedir continues to develop confidence from his neighboring farmers. We expect up to 200 bags available only this season.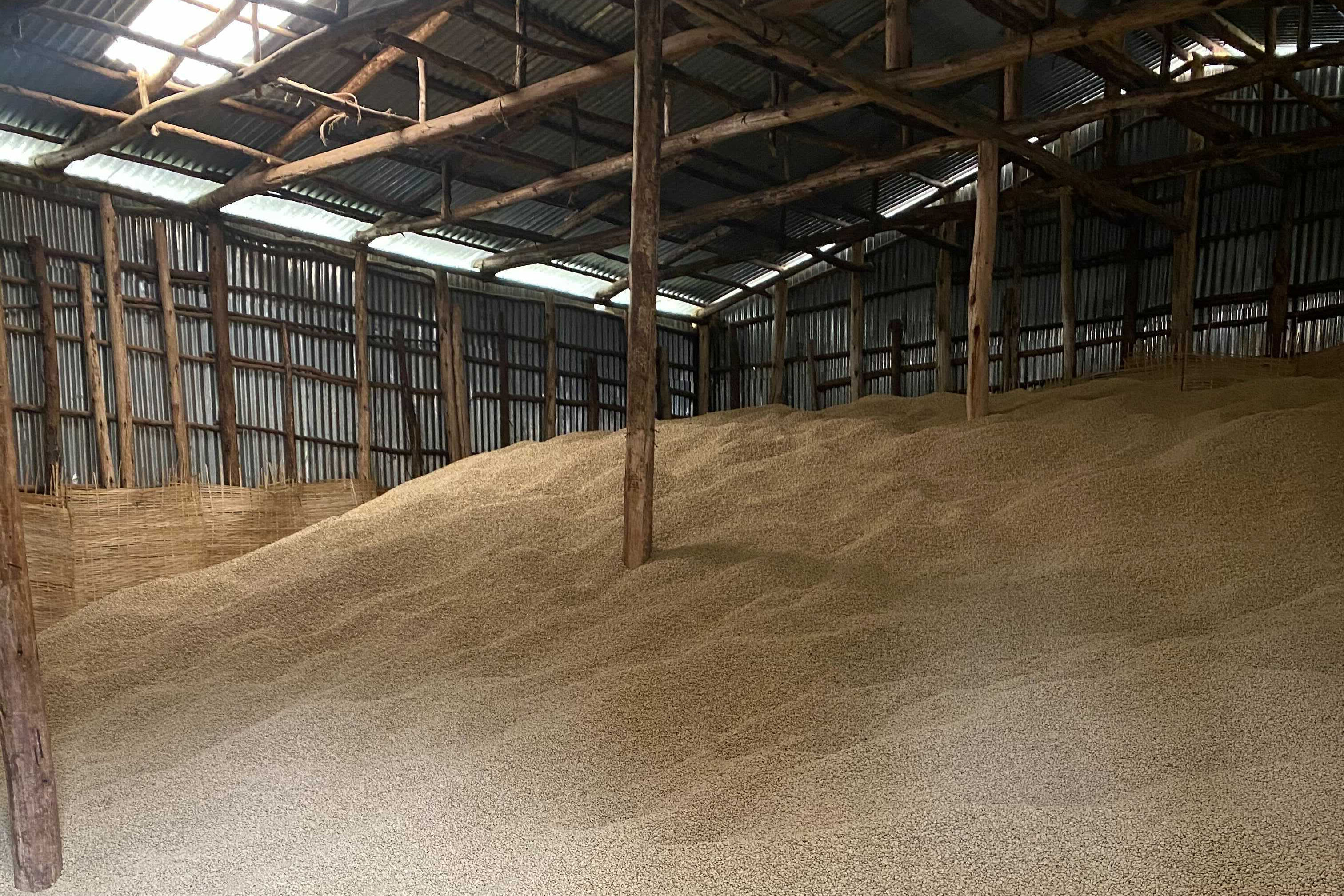 Kedir's the youngest of the Jebril brothers and he might just be the savviest. Kedir incorporated his own export company in 2020. That's a big deal. Kedir will be exporting his own coffee direct to Red Fox this season. He delivered his coffee directly to ECX in Dilla for the first 7 years of Gogogu Bekaka's existence. He worked with a private export company for the past 4 years through the country's Vertical Integration system allowing privately held businesses to traceably purchase coffees again. Kedir wasn't happy with this arrangement though—he knew his coffee was more valuable than the prices he was receiving for it. We bought his Gogogou coffees 2 seasons ago and plan to never let them go. This is the quintessential relationship archetype that Red Fox seeks out in Ethiopia; a small, locally held washing station with exclusive export to us in the US. Oh, and the coffee is amazing.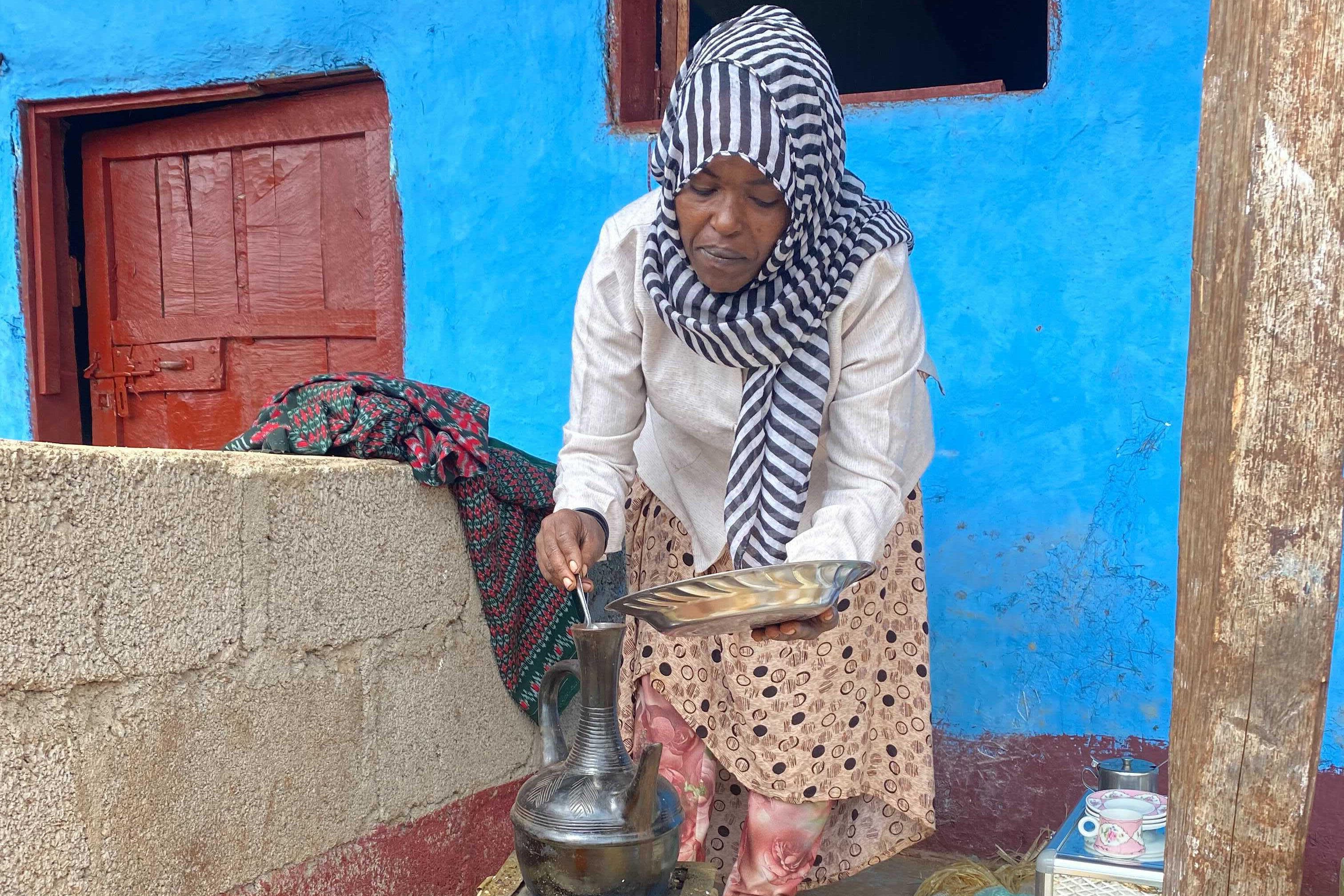 GOGOGU HARVEST '20/'21
The Central Guji season started in early November this year and will finish up in mid-January. Most washing stations will begin to prepare Grade 1 quality a couple of weeks into the season as the harvest picks up and ripening begins to become more dense. They'll continue preparing Grade 1 quality through the season stopping in the final week or so as the very last fruit comes off the trees in their areas. The early and late season coffees will become Grade 2 quality. Kedir has stricter protocols. He processed the first month+ of cherry as Grade 2 and only selected the fruit from the densest ripening period of the season, Dec 10 – Jan 5, as Grade 1 this year.  His offerings from Bekaka and Wate are the purest essence of what the surrounding forests can be and are.  
Kedir's fermentation process is extensive—he leaves freshly peeled seeds underwater for 60 hours compared to the average washing station's 48. Coffees are then washed vigorously in elongated channels while also being selected for quality. The less dense Grade 2 quality beans are sifted off the top of the channel and taken to their own drying stations. The denser Grade 1 coffees eventually make it to a soaking tank where they'll sit overnight removing any excess mucilage from the seed before they're sent to the drying beds. Kedir keeps his parchment coffee covered in mesh for the first 5-6 days in order to avoid cracking and direct exposure to sunlight which can damage the integrity of the beans. After this first drying period the coffee is then opened to sunlight and left to dry for another 5-6 days before being conditioned in the storage warehouse for upwards of a month.  
Kedir paid 25-29 birr/kg for coffee cherry in the 2020/21 season. It's important to note that the standard local price for cherry prior to last year was in the 14-20 birr/kg range for many years.  Increased competition through the Vertical Integration concept has very much increased financial viability for coffee producers across Centra/Northern Guji from Uraga to Haro Welabu to Hambela Wamena.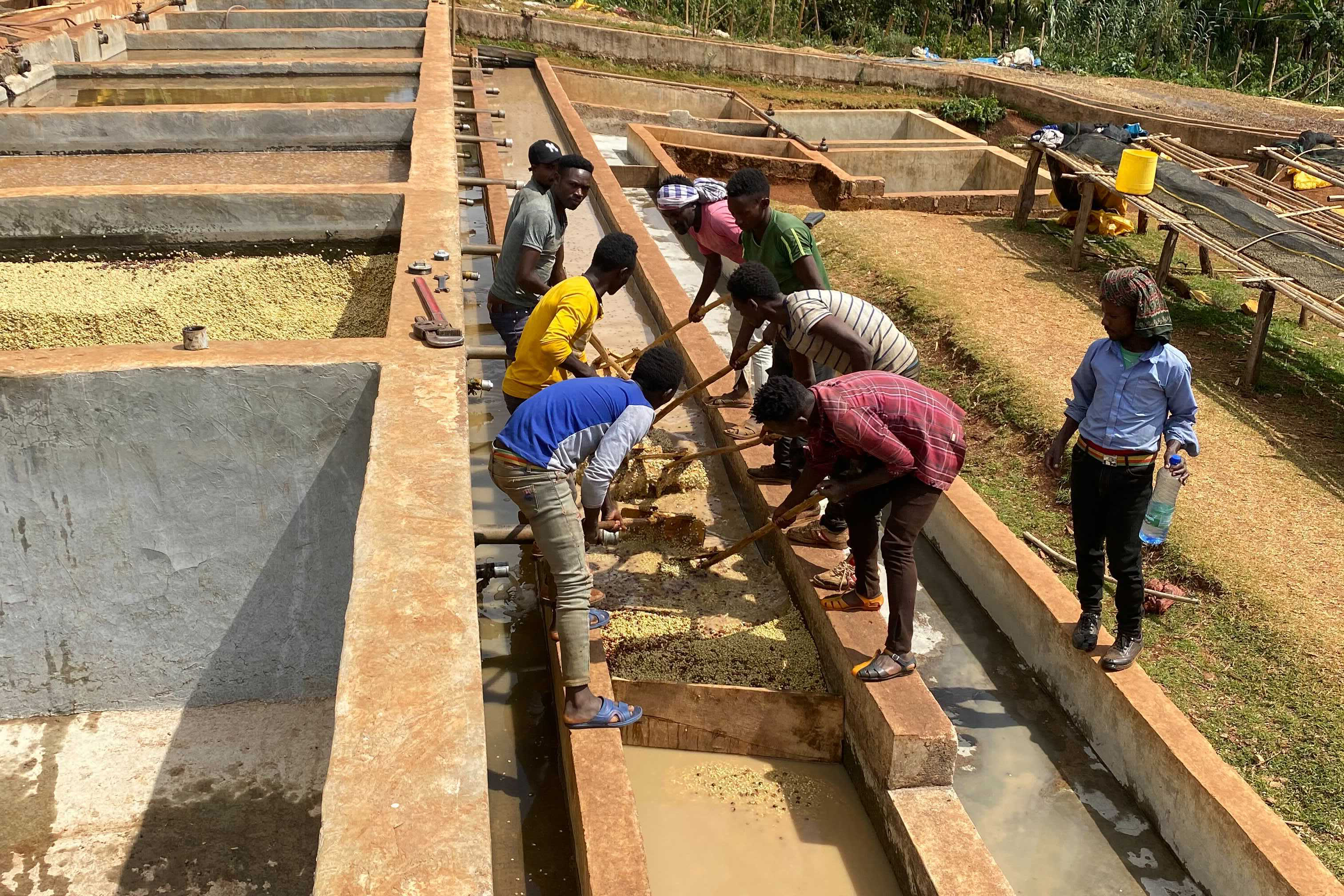 THE GOODS
Even though these coffees are only a bumpy 20 minute drive from each other, the flavor profiles are uniquely distinct.  
Gogogu Bekaka: Tropical yellow fruits are the headliner here—sweet but bright, sparkly mango and ultra-ripe papaya reign supreme with lingering rosewater Turkish delight in the background.  The finish shows a more caramelized character along the lines of bruleed meringue or marshmallow. This cup profile has haunted me with memories of Yabitu Koba/Ugo Begne Forest coffees of years past for the past week. These lots will demonstrate a truly dynamic range across the flavor spectrum. So structured. Perfectly complete.  
Gogogu Wate: The Wate lots also conjured memories of coffees of yesteryear and right off the bat with their scallion-like aromatics. Scallion? Yes. Oddly enough, it's the one single flavor attribute I seek out most in Central Guji coffees.  It's an indication of 2 things: 1) that the coffee is mighty fresh,  2) so fresh that as the lot conditions over the course of a month or so that exact scallion character morphs into the most stunning honeysuckle/orange blossom fragrance. It sounds odd but it's the secret sauce. Moving forward the cup profile itself in a word is electric. Key Lime.  Radiant, fresh, crisp Key Lime. Persian Lime. Kaffir Lime. Lemon Lime. All the limes. This is an effervescently refreshing coffee.