Notes on Oaxaca coffees from Red Fox Mexico sourcing & sales lead Adam McClellan
When we first started sourcing Oaxaca coffees, I felt that part of our efforts were to reverse the declining production of the truly singular and classic coffees that populate these regions only. Now, with so many immovable forces screaming for change across the production and industry, we can't fight modernity and evolution. Many of these farmers are older, and their kids aren't going to take over the family business when they stop producing coffee. Those who do may not appreciate how special and rare these elegant profiles are, replanting with flashier varieties and employing novel processing methods that are more dramatically marketable.
The more time I spend here, the more I see that we can't halt the forces that have led to the decline of these coffees, even with ready buyers paying great prices; what we can do is enjoy these coffees, honoring them in their upper-middle age as the singular experience they are.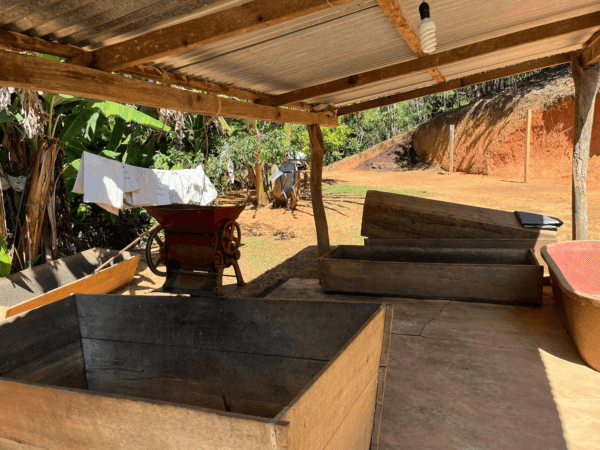 Not a modern coffee
One of my favorite things about fragrance and taste is their ability to conjure nostalgia and transport you to another time and place from your past: a deeply personal experience. I wanted to share some personal thoughts, because that sense of nostalgia, of transportation into the past, is what Oaxaca coffees do for me. I'm 17 years into my journey in the coffee industry, which doesn't give me senior status but puts me at upper-middle age. After spending the last few months cupping the harvest as it comes in from the remote mountains surrounding the capital, these clean, delicate Oaxaca coffees bring me back to the early days in my career. 
Part of what triggers that sense of nostalgia is that Oaxaca coffee is squarely not a "modern" coffee profile, by which I mean its signal isn't loud or head-turning but rather clear and quiet, subtly elegant. It doesn't scream at you with experimental processing methods like anaerobic fermentation, the well-branded honey process, or even the natural process in a region where natural is not the tradition. Nor does it showcase sensational modern flavors through the now widely-planted hybrid and/or highly-selected varieties across the world. These attention-grabbing modern profiles are more and more where the coffees the industry seeks to assign premium pricing. Their unmistakably novel attributes signal to consumers a tangible reason to pay the higher prices we as an industry are still chasing, since coffee still needs to be more expensive than it is for the industry to thrive down to the producer level. 
Oaxaca coffees are the opposite of these nouveau profiles in the best possible way. Soft-spokenly old school, they are quiet while complex enough to make you want more: a coffee pro's coffee. Above all, these coffees define clean cup. Each region has nuances that I'll dive more into, but the uniting thread is definitely pure sweetness without simplicity. These coffees are incredibly enjoyable to drink and drink fast mainly because they're just so sweet. They generally have a lot of "classic" coffee flavors but coupled with a light body that makes them refreshing even when hot—making their delivery to the US during the summer months welcome. 
Regions & notes
Loxicha and Yogondoy in Sierra Sur showcase the purest and best expression of the famed Pluma variety, a local mutation of Typica that absolutely thrives under these conditions. Velvety, smooth milk chocolate notes and pear sweetness, lead into candied orange and raspberry preserves in Loxicha. Yogondoy leans more orange marmalade, with a honey-like mouthfeel, but utterly clean, sweet, and chuggable. The best lots have a lemon blossom floral character when they cools.
Ozolotepec in Sierra Sur has fresh citrus, lemon zest, honeyed aromatics, and beautifully complex cups with orange blossom, fresh berry, brown sugar, tart, juicy apple and pear. Some vanilla bean-like flavors on the back end.
Sochiapam, La Cañada has lots of black pepper, cardamom aromatics and the cup can yield dried fruits like dates and raisins along with tart green apple, grapefruit, panela, almond, and high percent cacao chocolate.
Santiago Atitlan in Sierra Mixe are some of my more recent favorite profiles, loaded with grape and blackberry, tartaric acidity, and tangerine. Some fresh tropical fruit tones round out a very bright, expressive cup that evokes the best Colombias and some Kenya-like attributes 
San Pedro Yosotatu, Mixteca coffees are subtly complex. The fragrance is vanilla bean, sweet spice like clove or cardamom, dried raisins or prunes, and lime zest, which continues in the cup with more lime and citrus, opening into fresh grape followed by a lingering honeyed sweetness and ending with an ethereal floral component. It has an iconically Typica profile. 
Guadalupe Miramar, Mixteca coffees offer a deep, pure look into the increasingly rare original lineage of Bourbon that was brought to the Americas. Ground fragrance shows lots of fresh red fruits and orange peel, as well as panela. Something about these cups when freshly ground announces very clearly that you are going to be diving into something very sweet. The flavor is more bright ripe red and purple fruit up front, like raspberry, cherry, blackberry, with an acidity that brings kicks of Meyer lemon and tangerine and then settles into pure brown sugar, amber honey, more tangerine, maybe a hint of almond or mascarpone, with a buttery texture that lingers for a moment and then washes away so cleanly.
These coffees will hit the states in early June. They're a great investment in the things coffee lovers love most: clarity, sweetness, elegance, and the truest expressions of terroir.